Dig for Truth: Theme of AID-Funded Journalism Workshop at LAU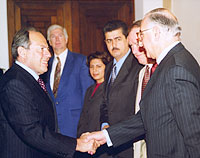 President Emile Lahoud meets the workshop organizers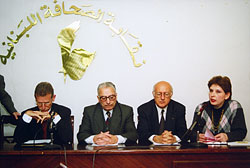 USAID representative in Lebanon James Stephenson, Dr. George Skaff of the Press Federation, LAU President Dr. Riyad Nassar and IPJ Director Magda Abu-Fadil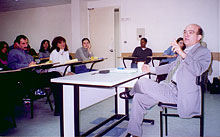 INDEVCO CEO Antoine Frem speaking to workshop participants
It lasted 10 weeks, but was well worth the effort for 40 print media reporters who participated in an investigative journalism workshop at LAU and the Lebanese University in Spring 2000.
The project, which included parallel sessions in English at LAU and Arabic at LU, and was funded by the U.S. Agency for International Development, aimed at upgrading the journalists' skills and at highlighting accountability by the public and private sectors.
"This is not scandal-mongering by the media, but, rather, digging into facts and presenting them in all honesty — whether positive or negative," Dr. Riyad Nassar told a news conference at the Press Federation to launch the program in January 2000 as part of a national campaign for transparency and anti-corruption in Lebanon.
President Emile Lahoud lent his support when he received organizers at Baabda Palace. "You have my help in this noble project," he told them.
Mr. George Krimsky, a veteran international correspondent and editor of the Associated Press, conducted the workshop's English track at LAU, under the auspices of the Institute for Professional Journalists. He co-founded the International Center for Journalists (ICFJ) in Washington, DC, which administered the program in Lebanon.
Mr. Raphael Calis, a one-time executive editor of United Press International, and a former public relations director at MBC TV in London, directed the Arabic track at LU.
Mr. Nick Mills, a veteran journalist who taught at Boston University assisted by advising LAU and LU on how to incorporate the workshop's materials into their respective journalism curricula.
"We know that a free and active press can be an effective voice in the promotion and enforcement of good governance and in ensuring that a free market is a fair one," said Mr. James Stephenson, AID's mission director in Lebanon.