Professional Ethics, Media Legislation & Freedom of Expression in Lebanon
IPJ/UNESCO/IPI Roundtable — Beirut, Lebanon, March 1-2, 2002


Magda Abu-Fadil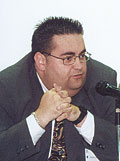 Marcello Scarone


HE Ghazi Aridi


Riyad F. Nassar

Octavia Nasr


Mona Ziade


Gebran Tueni
Friday March 1, 2002
9:30 AM
Introduction. Ms. Magda Abu-Fadil, Director, Institute for Professional Journalists, Lebanese American University, Lebanon
Welcome. Dr. Riyad F. Nassar, President, Lebanese American University, Lebanon
Rationale for Media Seminar Followup. Ms. Barbara Trionfi, Press Freedom Advisor, International Press Institute, Austria
The Meaning of Journalistic Ethics. Mr. Marcello Scarone, Programme Specialist, Programme for Freedom of Expression, Democracy and Peace, United Nations Educational, Scientific and Cultural Organization, France
The Official View. H.E. Ghazi Aridi, Lebanese Information Minister
10:30 AM
Coffee Break
11:00 AM - 12:20 PM
Session I: Sources.
Mr. Johann Fritz, Director, International Press Institute, Austria (Chair)
Mr. Marcello Scarone, Programme Specialist, Freedom of Expression, Democracy and Peace, UNESCO, France (Chair)
Ms. Octavia Nasr, Senior International Editor, Cable News Network, USA
Ms. Mona Ziade, News Editor, The Daily Star, Lebanon
Mr. Mohammad Baalbaki, President, Lebanese Press Order, Lebanon
12:30 PM - 1:30 PM
Lunch Break
1:30 PM - 3:00 PM
Session II: Gifts, Junkets, Benefits.
Dr. Ramez Maluf, Chairman, Arts & Communication Division, Lebanese American University, Lebanon (Chair)
Mr. Faysal Salman, Managing Editor, As-Safir, Lebanon
Mr. Jawad Adra, Managing Partner, Information International, Lebanon
Mr. Melhem Karam, President, Lebanese Journalists Association, Lebanon
3:00 PM - 3:15 PM
Break
3:15 PM - 5:00 PM
Session III: Accuracy, Fairness.
Mr. Ghayath Yazbek, Editor in Chief, MTV News, Lebanon (Chair)
Dr. Nabil Dajani, Professor of Communication, American University of Beirut, Lebanon
Mrs. Stefania Delfino Bork, Projects Officer, International Federation of Journalists, Belgium
8:00 PM
Dinner off-campus
Saturday March 2, 2002
9:30 AM - 10:45 AM
Session IV: Freedom.
Ms. Sarah Sullivan, Managing Editor, Transnational Broadcasting Studies Journal, American University in Cairo, Egypt (Chair)
Mr. Gebran Tueni, Publisher, An-Nahar, Lebanon
Dr. Stephen Quinn, Director, Center for Media Training and Research, College of Communication and Media Sciences, Zayed University, UAE.
10:45 AM - 11:00 AM
Coffee Break
11:00 AM - 12:30 PM
Conclusion: Who Will Implement? When? How?
Ms. Magda Abu-Fadil, Director, Institute for Professional Journalists, Lebanese American University, Lebanon
Dr. Mahmoud Tarabay, Assistant Professor of Communication, Lebanese University and Lebanese American University, Lebanon
12:30 PM - 2:00 PM
Lunch Break
Venue for all sessions: Irwin Hall, Executive Conference Room