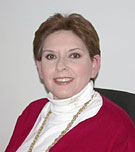 Magda Abu-Fadil

Mahmoud Tarabay
Magda Abu-Fadil is LAU's Director of the Institute for Professional Journalists and of University Publications. She brings 25 years of experience as a foreign correspondent and editor with international news agencies such as Agence France-Presse, United Press International; newspapers such as Asharq Al-Awsat, Al Riyadh and Defense News; and, magazines such as The Middle East and Events. She taught journalism at the American University in Washington, DC — from where she obtained a BA and MA in Communication and Multimedia — and was coordinator of the Journalism program at the Lebanese American University for six years. She has conducted seminars and workshops for professional journalists at the Washington-based International Center for Journalists and at LAU and has worked closely with the International Press Institute, United Nations Educational, Scientific and Cultural Organization, Open Society Institute, United States Agency for International Development, Heinrich Böll Foundation and International Media Support.
Download Abu-Fadil's bio in Arabic (PDF)
Dr. Mahmoud Tarabay is an assistant professor of Communication and Journalism at LAU. His experience includes working on publishing projects for weekly bulletins and monthly magazines and research in the Gulf and the UK-based Center for Mass Communication Research. He holds an MA from the University of Bradford and a Ph.D. from the University of Leicester in the UK. He has conducted workshops for professional journalists at the Lebanese American University with the ICFJ.