Tania Mehanna — Woman War Correspondent

IPJ director Magda Abu-Fadil introducing Mehanna to LAU students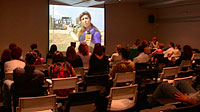 War footage of Mehanna in Iraq

Student asks about hardships women journalists face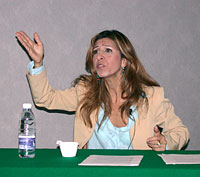 Mehanna makes a forceful point about journalistic ethics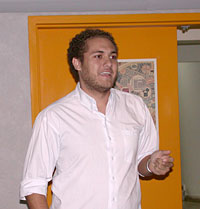 How objective are you in your coverage?
A sixty-minute talk with veteran Lebanese TV war correspondent Tania Mehanna turned into a two-hour session with LAU journalism students eager to learn from a pro and not wanting the encounter to end.
Debunking myths that war correspondents are hardened men, Mehanna said the worst reporters were ones who were heartless and with no compassion for others.
What helped in her career was having survived Lebanon's civil war, with all its disruptions, upheavals and destruction, she told a captive audience at the lecture animated with video footage of her adventures.
Additionally, "feminine intuition and sensitivity play a big role in the understanding and interpretation of the reality a war correspondent has to cover," she said, noting that "wars also have effects on people's lives and carry human tragedy," something she's tried to show throughout her career.
Mehanna has covered wars for 16 years in Afghanistan, Iraq, Pakistan, the release of the Abu Sayaf hostages from captivity in the Philippines, the liberation of South Lebanon, and done local stories and is well known to Arab viewers of the Lebanese Broadcasting Corporation International (LBCI) TV.
"After all, human sufferings are not confined to one area or race or religion, they are the same everywhere," she said.
Speaking of hardships, Mehanna said it was difficult to work as a woman in Pakistan and Afghanistan and having to deal with tribal and archaic traditions, where women were not allowed out of their homes, sometimes deprived of education and considered permissive if they were in the streets.
In Iraq, being Lebanese and speaking Arabic was essential to understanding the evolving war situation and was imperative as a matter of survival, she said.
"I visited the place during the years of the embargo but what I saw after the American occupation was much worse than the worst days of Beirut — a population of seven million stuck in one city with no water, no electricity, awful sanitary conditions, no food or money to buy food and no communications to know about family and friends," she recalled.
Mehanna put together excerpts to illustrate difficult living conditions in post-Saddam Iraq, took questions from the audience, and resumed her talk with footage of her coverage in Pakistan, Afghanistan and south Lebanon after Israeli troops withdrew following 22 years of occupation.
She held a lively discussion with students on various aspects of professional journalism, the meaning of objectivity, difficulties women correspondents faced and the need for journalistic ethics.
The event was organized jointly by LAU's Institute for Professional Journalists and the Arts & Communication Division at the Beirut campus.