The State of Arab Media: A Call for Freedom and Reform
— Athens, June 1-3, 2003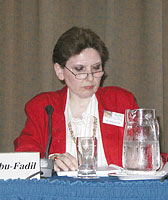 Magda Abu-Fadil
A three-day conference brought together leading Iraqi, Arab and Western media experts in Athens to develop a set of policy recommendations for legal and regulatory reforms in Iraq.
The event June 1-3, 2003 entitled "Designs for Democratic Media in Iraq" was organized by Internews Network, a non-profit organization supporting free media worldwide, in cooperation with the Greek Foreign Ministry and the U.S. Agency for International Development's Office of Transition Initiatives.
Participants from Iraq (both longtime residents and expats), the Arab World, Europe, the United States and Asia shared their views on lessons learned from the past and the state of Arab media. They met in work groups to zero in on media laws, professionalism and training, regulatory reform, public service broadcasting, and the Internet. The reforms are meant to foster free, pluralistic media in post-Saddam Iraq.
A final open discussion focused on future steps for Iraq.
Other major sponsors included UNESCO, the German Foreign Office, the Russian Ministry of the Press, the BBC World Service Trust, the Center for Strategic & International Studies, the Stanhope Centre for Communication Policy Research and the Arab Women's Media Center, to name a few.
LAU's Institute for Professional Journalists' director, Magda Abu-Fadil, participated as a panelist and spoke on "The State of Arab Media: A Call for Freedom and Reform."
Related materials: