IPJ Links Up with Alexandria Library
Egypt, December 2003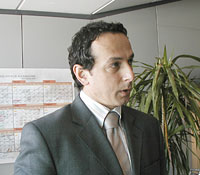 Mr. Sherif Riad, public relations & international contacts director at the Alexandria Library.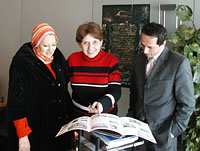 Ms. Faten Merzeban, library furniture engineer, IPJ director Magda Abu-Fadil and Riad, discussing display and seating designs for parts of the library.

Planetarium and wall inscriptions greet visitors to library.

Atrium of library's main reading room.

Manuscript museum treasure at library.
The Institute for Professional Journalists was tapped to help set up the Lebanon chapter of the "Friends of the Bibliotheca Alexandrina" in an effort to expand the world famous landmark that came back to life after centuries of obscurity.
The Library of Alexandria, as it is more commonly known, was the largest respository of knowledge in antiquity, was associated with scientific research and was frequented by scholars from all over the Mediterranean.
Although the old library was destroyed — the exact date is still debated among scholars — it represented civilization and the foundation on which arose the ancient University of Alexandria.
The modern Bibliotheca Alexandrina lies alongside the University of Alexandria's Faculty of Arts, overlooking the sea. It is designed as a simple circle inclined towards the sea and partly submerged in a pool of water. It represents the Egyptian sun that in contemporary terms will illuminate the world and human civilization.
The library collection is displayed over seven levels (11 floors) from the Roots of Knowledge to the New Technologies. The building houses several smaller libraries, including two for young people and children, an audiovisual, multimedia and music library, reading rooms, several museums, a planetarium and a conference center.
As a first step toward establishing the Lebanon chapter of the "Friends of the Bibliotheca Alexandrina," IPJ director Magda Abu-Fadil shipped books authored by several LAU faculty members as well as various LAU publications.