IPJ Contributes to International Journalism Education Model

UNESCO convenes journalism experts meeting at its Paris headquarters.

Mogens Schmidt, UNESCO's deputy assistant director general for communication & information and N. Ram, editor-in-chief of the Hindu & Group Publications.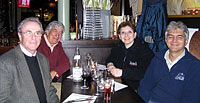 Prof. Gordon Stuart Adam, journalism scholarship fellow at Florida's Poynter Institute for media Studies, Prof. Michael Cobden of Canada's University of King's College in Halifax, IPJ director Magda Abu-Fadil and Prof. Guy Berger, head of School of Journalism & Media Studies at Rhodes University (South Africa) take some time off from intense meetings at UNESCO.

Paris sets stage for 2007 journalism education congress.

Mohalhil Faqih, former Future TV (Lebanon) anchorman, touches base with Abu-Fadil in Paris.

IPJ director Abu-Fadil at UNESCO experts meeting in Paris.
International experts met in Paris, at the invitation of the United Nations Educational, Scientific and Cultural Organization, to design model journalism curricula and their talks led to plans for the first world journalism education congress scheduled for 2007 in Singapore.
The meeting, grouping academics, journalists and media trainers, and entitled "Experts Consultative Meeting on Journalism Education," was held at UNESCO headquarters December 14–16, 2005, to focus on the context of journalism education, curricula, educators, and students, and featured several workshops on course requirements for journalism programs.
The Paris group delved into the aims of journalism education, notably at the undergraduate level, and came up with lists of requirements and descriptions for core, required and elective courses during the workshops. Participants further examined the importance of online learning delivery systems for journalism education, notably software programs, equipment and facilities, online resources, and support activities such as research, training and documentation.
Key among the issues discussed was the definition of journalism itself and who could be considered a journalist, given the proliferation of technologies and citizen journalism that have added a new dimension to the media. Moreover, the experts looked into the rationale and relevance of journalism education today and whether journalism schools or programs were really needed.
Experts, who included LAU's Institute for Professional Journalists director Magda Abu-Fadil, agreed that journalism curricula must be revisited to better reflect media realities, job opportunities and needs and began a process that is to be followed up in subsequent meetings to fine-tune one or several model curricula in the field. Others in attendance included representatives from the University of Texas at Austin, the Florida-based Poynter Institute for Media Studies, Al-Jazeera Media & Development Training Center, the Danish School of Journalism, the University of Newcastle in Australia, Morocco's Mohammed V University , the Sorbonne in France, Iona College in New York State, and the Hindu & Group Publications of India.
Participants were also invited to share ideas for the first World Journalism Education Congress next year in Singapore to be hosted by the Asian Media Information & Communication Center and Nanyang Technological University. The three-day event will be open to journalism educators and students from around the world and aims at tackling the state of journalism education, industry/academy ties, media freedom and responsibility, the identity of journalists and journalism, comparative models of journalism education, and Asian journalism education.