IPJ Investigative Journalism Workshop Targets Al Jazeera

Editor Fadl bin Abdel Zraq applies what he learned at Al Jazeera's newsroom.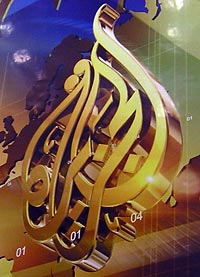 Al Jazeera channel's logo.

Al Jazeera Cairo bureau chief Hussein Abdel Ghani takes IPJ test during workshop.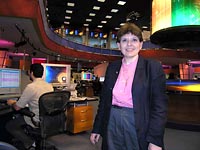 IPJ director visits Al Jazeera's newsroom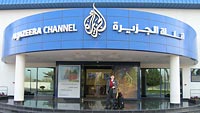 Abu-Fadil outside news channel headquarters.

Investigative journalism workshop trainer and trainees at Al Jazeera.

The opinion and opposite opinion—Al Jazeera's motto.
Participants attending an investigative journalism workshop at Al Jazeera channel in Qatar conducted by IPJ director Magda Abu-Fadil said they needed more time to implement assigned projects than the course allowed for and hoped future training sessions would be extended.
The intensive five-day course March 19-23, 2006 involved Al Jazeera bureau chiefs, editors and reporters from across the Arab world and was conducted at the network's Al Jazeera Media Training and Development Center in Doha. The center is noted for its state-of-the art training facilities that enable journalists from the channel and other media to be updated on the latest print, broadcast and online techniques.
The workshop aimed at familiarizing participants with the duties and responsibilities of investigative journalism, definitions of that genre of reporting, fact-checking, constraints, ideas to develop into investigative projects, data and documents and how to obtain them, case studies, computer-assisted research and reporting, the use of background, and, the adding of sound, video, photos and graphics to the mix.
The journalists also dealt with issues of media ethics and how far they should go in pursuing a story or lead that could harm people and adversely affect news consumers. Of particular interest were matters of unidentified sources, attribution, gifts and bribes, accuracy and balance, legal matters, privacy and the Internet.
Participants also analyzed video coverage of reports and investigative stories to examine their strengths and weaknesses. They did extensive Web searches and learned more about extensive databases, links to useful sites and discussed the merits of weblogs (blogs).
On the final day, they watched the 1970s movie "All the President's Men" and discussed the chronology, logistics, makeup and impact of the story focused on the Watergate scandal in the United States that was uncovered by the Washington Post newspaper and that led to the resignation of then President Richard M. Nixon.