IPJ Cooperates with UNESCO, An-Nahar in Online/Ethics Workshops

An-Nahar logo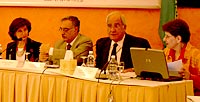 IPJ director Magda Abu-Fadil (right) advised Arab youth to get involved in online journalism.

Arab students attend UNESCO's "Media & Youth" workshop in Beirut.

Nayla Tueni, Antoine Messara and Tanios Deaibes address UNESCO workshop.

Abu-Fadil conducted MEPI-funded workshops at An-Nahar.
Fifty-five Arab high school students participated in a Beirut workshop on "Media & Youth" that focused on the United Nations Educational, Scientific and Cultural Organization's (UNESCO) partnership with young people to empower and enable them to fully appreciate the media's mission in an interconnected and open world and to understand their role in disseminating knowledge.
"The media cannot operate without guidelines, ethics and moral responsibility," said Ahmad Alamah, principal of Beirut's St. George's School, one of several institutions involved in the workshop. "Justice cannot function without laws and judges. Similarly media cannot speak in the name of liberty without objectivity and responsible truth."
The event, organized by UNESCO and Lebanon's National UNESCO Committee May 12-13, 2006, featured journalists and media figures, academics, politicians and members of NGOs.
Institute for Professional Journalists director Magda Abu-Fadil did a presentation on "Online Journalism", noting that Arabs lagged in Internet use and needed to get up to speed in content development, design, interactivity, credibility, sourcing and balance of news items.
Other speakers at the workshop included Najia Al Houssary of the pan-Arab daily "Al Hayat," Tanios Deaibes of "ANB TV," Lebanese University media analyst Antoine Mesarra, and reporter Nayla Tueni, whose father Gebran was publisher of the Lebanese daily "An-Nahar" and was assasssinated in December 2005.
Elsewhere, Abu-Fadil conducted three workshops at "An-Nahar" newspaper, as part of a program funded by the U.S. State Department's Middle East Partnership Initiative (MEPI) and administered by Lebanon's branch of the Young Men's Christian Association.
The IPJ workshop sessions dealing with media ethics, online journalism, computer-assisted research and reporting and blogs were held at "An-Nahar's" training center in midtown Beirut.