Kuwaiti Journalists Hone Skills Through IPJ Workshop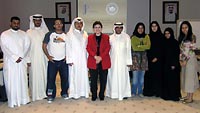 IPJ director Magda Abu-Fadil with KUNA editors.

KUNA English service journalists polish news writing and reporting skills.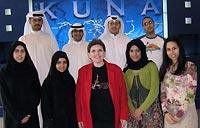 Kuwaiti trainees with Abu-Fadil at graduation following tough course.
Nine editors/reporters of the Kuwait News Agency's English service underwent tough drills in news writing and reporting during a five-day workshop at KUNA headquarters May 6-10, 2006.
The young editors learned about news values, tools of the trade, story structure, grammar and punctuation, feature writing for news agencies, computer-assisted research and reporting, media ethics, attribution, accuracy and balance.
Exercises involved writing spot news, coverage of speeches, conferences, government meetings, crimes and the finer points of online journalism. Participants were also tested on their general knowledge and were given brief assignments to complete during and after the course.