IPJ director trains KUNA editors

Abu-Fadil (top row) with KUNA editors.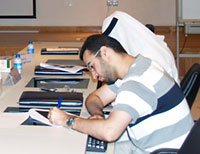 KUNA editors undergo rigorous tests.

Back to basics during editors' workshop in Kuwait.
The Institute for Professional Journalists (IPJ) resumed its work following the summer war hiatus that brought death and destruction to Lebanon and disrupted activities in the country with a workshop for editors of the Kuwait News Agency's (KUNA) English service.
The week–long November 20006 course conducted by IPJ director Magda Abu-Fadil in Kuwait focused on writing, editing, spelling, quotes, photos, captions, ethics, and headlines. Editors were also told about easily confused words in English, misspelling and mistranslation of names from one language to another, easily missed grammatical errors, and the traps of using cliches in writing.
Abu-Fadil showed several videos including clips on ethics, plagiarism, the Internet, and public perceptions of the media. Participants were also subjected to rigorous exercises, and tests, notably in mathematics, the bane of most journalists. They also took part in dynamic discussions on the need for higher professional standards for journalists.
Abu-Fadil is a regular trainer at KUNA and has hosted its journalists in Beirut as well.